Are you in love with cantaloupe? Then why don't you try a cantaloupe smoothie? This article is created for cantaloupe lovers who want to try something new.
This cantaloupe smoothie is full of beneficial nutrients for our health. In my opinion, cantaloupe does not get enough praise that it should like other fruits.
Even if you are not a cantaloupe lover, I am assured that you will run into the grocery store after checking out this delicious recipe.
Smoothies are the best way to cool yourself in summer. You can also make it in winter to add a touch of something refreshingly exotic to your daily life.
Smoothies are fully packed with vitamins, nutrients, and minerals and give your digestive tract a break. You can have it for breakfast, lunch, or as a snack, as it is healthy and will keep you full for a long time.
How To Make A Smoothie?
Blending frozen fruits gives them a smoothie-like consistency. Therefore, it is probably not necessary to use as much ice as frozen fruit.
How much ice you want to add will depend on how thick you want your smoothie to be, so feel free to experiment.
If you want to add fruit juice, freeze it in an ice cube tray for a smoothie with a thicker consistency.
The sweetness of your smoothie will depend on the sweetness of the fruit you use. If your smoothie isn't sweet enough for you, the extra sweetener can be added. To stay healthier, try using stevia or monk fruit instead of sugar when using sweeteners.
Vegetables can be sneaked into a smoothie you're making. Half the time, the youngsters don't even notice they've been given extra vitamins when they are added to a smoothie!
Get the ingredients ready in advance. Keep the fruits in bags in the freezer after washing, slicing, and dividing them. You can make smoothie prep bags by adding pre-portioned frozen fruit to sandwich bags for optimal speed. This way, all the ingredients are ready to go straight from the freezer to the blender!
To prevent leftover smoothies from turning brown, add lemon juice. Then, place a piece of plastic wrap directly on top of the smoothie, touching the top of the liquid so there is no air. Store in the fridge for up to 12 hours. You can also freeze the smoothie but I'd recommend following the above-frozen ingredient hack instead.
Cantaloupe Smoothie
Cantaloupe, a type of melon also referred to as rockmelon, gives a deliciously sweet and refreshing flavor when you turn it into a creamy frosty smoothie. When you cut through cantaloupe, it has such a sweet and light floral aroma, and it gives flavor to any recipe it is added to.
Like many other fruits in the melon family, cantaloupe is mostly full of water. One cup of fresh cantaloupe cube has 144 calories, 6% daily fiber, zero fat, and cholesterol. You can find these flavourful fruits all year round, but it tastes best in summer, where it is at its juiciest, freshest, and sweetest form.
Cantaloupe Nutrition
The cantaloupe or rockmelon is a fresh, juicy, and orange summer fruit which is similar to watermelon and honeydew melon. Semi-sweet cantaloupes are very popular among people in the US It is orange inside, with a white, rough, and webbed outer skin.
Cantaloupe is full of minerals and vitamins, such as calcium, iron, zinc, folic acid, copper, vitamin C, vitamin A, vitamin K, magnesium, manganese, potassium, phosphorus, choline, niacin, and selenium. Because of these nutrients and more, a cantaloupe smoothie is perfectly able to give our bodies energy for the day. Here are some of the health benefits of cantaloupe:
Cantaloupe has powerful antioxidants that protect our cells from damage.
Cantaloupes are almost 90% water, which is why it's a juicy and refreshing fruit. Because of its fiber content, it can help our body digest food slowly and not make the blood sugar spike, which is important for people with diabetes.
It can hydrate and give energy immediately. The minerals in cantaloupe balance the fluids in our body and keep it working perfectly. This makes cantaloupe great for fighting dehydration on hot strenuous days.
Cantaloupes have anti-inflammatory properties that help to fight diseases.
You can find many of your daily vitamin needs in cantaloupe. It can help keep our skin, eyes, bones, and immune system healthy.
Cantaloupe can help reduce the risk of some cancers and to keep the memory sharp. It helps to lower the risk of heart disease and helps to lose weight because it can make us feel fuller longer.
Health Benefits of Banana
Bananas are full of nutrients, and they are very delicious fruits. It is incredibly healthy as it provides benefits for digestion, heart health, and weight loss. Besides being very nutritious, they can be a perfect addition to snack food or make healthy drinks like a smoothie.
Bananas contain a good amount of fiber, potassium, vitamin B6, vitamin C, magnesium, copper, protein, fat, and manganese. Each banana consists of only 105 calories, water, and carbs. It holds a small amount of protein and has almost no fat. Some of the benefits are:
Bananas give us instant energy.
Bananas can also aid with gastrointestinal issues like constipation, heartburn, and stomach ulcers.
It makes collagen and helps to protect our skin and cells against radical damage.
Bananas can support our brain health by aiding in the production of the serotonin hormone, which affects our mood, sleeping, and releasing stress.
It is excellent for pregnant women to help to meet their baby's development needs.
Almond Milk Nutrition
Almond Milk is a nutritious low-calorie drink that is becoming popular among people. It is a naturally dairy-free milk alternative, an ideal choice for vegans or people with a dairy allergy or lactose intolerance.
This wonderful milk alternative contains calcium, potassium, vitamin D, vitamin E, carbs, fiber, and fat. Almond milk contains 39 calories, 3 grams of fat, 1 gram of protein, and 20-45% calcium per cup (240 ml).
Almond milk has vitamin E that contains fat-soluble antioxidant that helps our body to protect against radical damage.
It has important nutrients like calcium and vitamin D, which are good for bone health.
Almonds contain monounsaturated fats and no cholesterol. Mono-saturated fats are healthy fats known to reduce LDL cholesterol (bad cholesterol) and prevent heart disease.
Almonds also contain Vitamin E, an antioxidant beneficial in neutralizing free radicals. Learn how to make your own almond milk here!
Vegan Yogurt
Vegan yogurts are packed full of fiber, calcium, and protein that is great for our digestive health. These yogurt alternatives are created from a variety of bases, including but not limited to soy, almonds, cashews, coconut cream, and pea protein.
Vegan yogurts come in varieties similar to dairy yogurt, with there being plain unsweetened options, and flavors such as vanilla, mango, strawberry, and peach.
Yogurts are great for a probiotic boost to your body. It also adds creaminess and great flavor to the smoothie.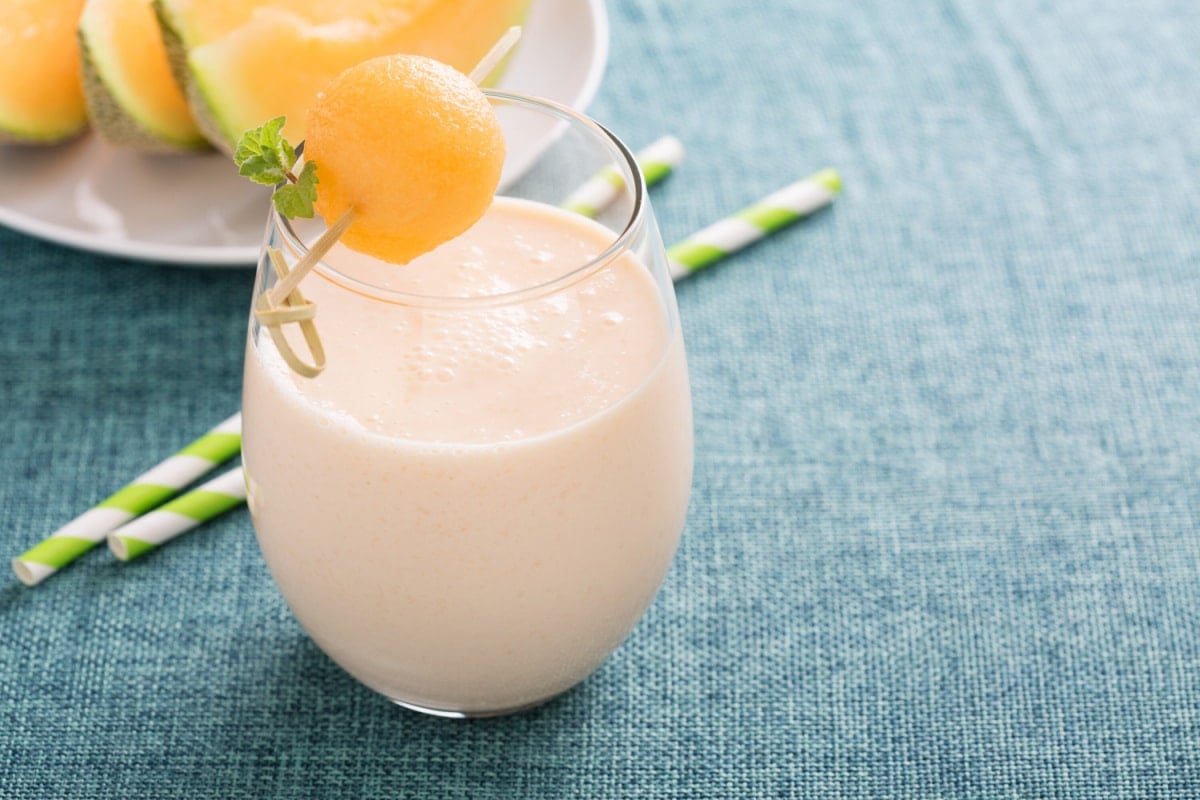 Cantaloupe Smoothie Ingredients
Almond milk
Cantaloupe chunks
Banana
Vegan yogurt
How to Make a Cantaloupe Smoothie?
Get a fresh ripe cantaloupe, peel off the skin, cut it in half, and remove the seeds. Chop one cup of cantaloupe into small pieces, and pour them into a high-speed blender.
Get a banana, chop it into pieces, and place it in the blender.
Get one cup of almond milk, a half cup of vegan yogurt, and also add them to the blender.
Process the ingredients until the smoothie is smooth and creamy.
Pour the cantaloupe smoothie into a glass, and serve immediately!
More healthy smoothie recipes:
If you enjoyed this post and would love to see more, join me on Youtube, Instagram, Facebook & Twitter
Get discounted copies of my cookbook here.
Also please leave a star rating 😉
Need some encouragement on your Healthier Steps journey?
Join our Facebook groups, sharing lots of delicious vegan and gluten-free recipes, health tips, etc., from our members. Please join us and invite your friends to Gluten-Free and Vegan For Beginners and Vegan Recipes With Love.